Join Date: Dec 2012
Location: Lanchester, Durham
Posts: 1
Thanks: 0
Thanked 0 Times in 0 Posts
Rep Power:
0
Hello!
---
Hi everyone just come to the forum, I'm a parrakeet person mainly due to space rather than anything. We built our aviary earlier in year and I have a pair of budgies, lovebirds (in breeding cages), kakarikis, green linnies, rosa bourkes and a turquoisine hen needing a mate as well as a rosella called Sam who lives in a big cage in the flight due to him being aggressive with the little guys. I also have a hand-reared cockatiel called Jasper who lives in my bedroom.

If anyone happens to know any turquoisine breeders in the north-east England I am desperately looking for a mate for my lovely Cindy.
Join Date: Dec 2010
Location: UK
Posts: 17,659
Thanks: 1,593
Thanked 2,007 Times in 1,575 Posts
Rep Power:
100
Welcome to the forum! I don't know of any turq breeders though. I'll keep an eye out for you
---
- Alexandrine parakeets Kona, Peaches, George (missing), Holly (RIP), &
Orange winged Amazon parrot Paulie
Join Date: Aug 2012
Location: England
Age: 22
Posts: 358
Thanks: 0
Thanked 7 Times in 7 Posts
Rep Power:
8
hi and welcome to the forum
I hope you find a turquoisine breeder. Sounds like you have a lovely selection of birds
I have a budgie which is mine and only mine called Moshi, and a senegal downstairs called Merryn. And we used to have 2 cockatiels called Harry and Smartie, Harry was the nice one and smartie was the mean one! And I LOVE linnies because our little olive linnie was such a lovely wonderful affectionate little bird. Unfortunately my sister got rough with her and killed her with her perch
Join Date: Nov 2010
Location: cape town south africa
Age: 24
Posts: 2,386
Thanks: 24
Thanked 85 Times in 69 Posts
Rep Power:
24
welcome to the forum
---
Join Date: Dec 2012
Location: Spain
Posts: 32
Thanks: 0
Thanked 0 Times in 0 Posts
Rep Power:
0
Welcome on board. Canīt help you either with that breeder, but anyway, you may learn quite a lot around here.

Enjoy!
Join Date: Dec 2010
Location: Ohio, USA
Posts: 5,750
Thanks: 734
Thanked 474 Times in 379 Posts
Rep Power:
43
Welcome to the forum!
---
DIGBY
4-year-old male Congo African Grey
Join Date: Feb 2011
Location: Oshawa, Ontario
Age: 28
Posts: 914
Thanks: 2
Thanked 1 Time in 1 Post
Rep Power:
16
Hi! Welcome to the forum
---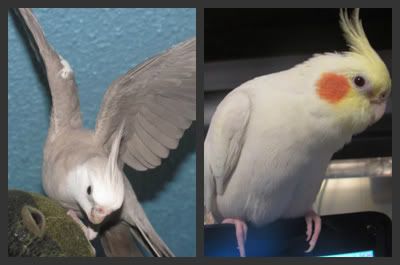 My Tiels
Cupid-Male Whiteface Cinnamon
Aero- Female Cinnamon Lutino
Join Date: Mar 2012
Location: North West, UK
Age: 33
Posts: 1,077
Thanks: 450
Thanked 311 Times in 215 Posts
Rep Power:
13
Welcome to the forum!
Sorry I don't know any breeders but viper and vine here in the north west breed and sell them if you are willing to pay shop price. They also courier
Their website is
www.viperandvine.com
I also keep linnies! I'm new to them
Look forward to seeing you around the forums x
---
Some of the gang:
Hobby Breeding: lineolated parakeets
Good to see another linnie face in here! Welcome!
---
A bird doesn't sing because it has an answer, it sings because it has a song.
- Lou Holtz
Welcome