new member ....
---
hallo all

A very happy new year to all of you to start with !


My name is Marianne , 60 years old , from the Netherlands
I am owned by 8 congo african greys, two galahs and one very old amazon ( male 65+ )

I also have 25 cockatiels in all kind of mutations
I breed with my tiels but not with the parrots, most of them are given away due to plucking reasons
During winter the plucking greys are inside the house the rest is in my 9 meters long aviary in the garden. a few together and a few separated


I also have a 11 years old jack russell terrier SCOOBY who is very curious as you can see on my profile-picture

If there are any questions feel free to ask them but I have a job and cannot promise to participate a lot
Join Date: Dec 2010
Location: UK
Posts: 17,659
Thanks: 1,593
Thanked 2,007 Times in 1,575 Posts
Rep Power:
100
Welcome to the forum
what a nice flock you have!
---
- Alexandrine parakeets Kona, Peaches, George (missing), Holly (RIP), &
Orange winged Amazon parrot Paulie
Join Date: Mar 2012
Location: North West, UK
Age: 33
Posts: 1,077
Thanks: 450
Thanked 311 Times in 215 Posts
Rep Power:
13
Welcome!!

Wow you must be busy with that lot!

Join in as much as you have time for, we value all levels of participation.

Take care and enjoy.


Sent from my SK17i using Tapatalk 2
---
Some of the gang:
Hobby Breeding: lineolated parakeets
Join Date: Apr 2011
Location: Alberta,Canada
Age: 24
Posts: 2,188
Thanks: 81
Thanked 87 Times in 72 Posts
Rep Power:
24
Welcome!
You must be CRAZY busy!

We would love pictures!!
---
Icicis- Green cheek conure
Shaylee- Bichon Frise
Wow ... That's a lot of birds... I thought I had a lot with 5 budgies, 1 parrotlet, 1 green cheek conure and 2 days ago I got my 1st ever tiel. Kennedy is right , if you can find the time we would LOVE some pix! Welcome to the forum!
welcome to the forum you must be a very busy person and we would love to see pics if you have time
---
Join Date: Apr 2012
Location: Ontario, Canada
Posts: 537
Thanks: 0
Thanked 1 Time in 1 Post
Rep Power:
10
welcome to the forum
---
Welcome! I am new too. Sounds like a very busy flock -65 years old! Thats wonderful! How long have you had him?
Join Date: Feb 2011
Location: Oshawa, Ontario
Age: 28
Posts: 914
Thanks: 2
Thanked 1 Time in 1 Post
Rep Power:
16
Hi! Welcome to the forum
---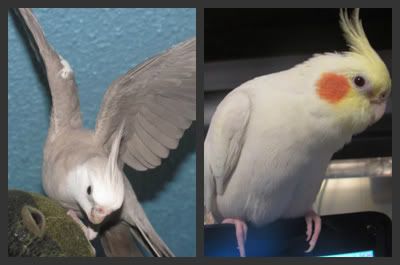 My Tiels
Cupid-Male Whiteface Cinnamon
Aero- Female Cinnamon Lutino