Hello from Ellie May and her feathered friends
---
Hiya, my Name is stacey but most call me Ellie May..I Started off with just a few lovebirds that where looking for a home that nobody wanted and the owner was going to eventually just let them go..
I was not thinking that a very good idea.. so i took them.. I haveonly done things like cat/dog/rabbit type rescue and rehomeing no birds.. but .. i did.. and what started out as only 2 love birds ended up with 8, i know crazy..
.. so after a few mnths of having the lovies a coworker of a friend of mine who worked at the pet store was trying to find a home for her parrotlets and asked if i would be interested in them..I kindly said no, i had just gotten into a hug mess with the 8 lovies i had just taken in and wasent even sure of how to really care for them.. but as the weeks whent on and they where soon in fear of going to the human society i caved and took them in.. so now i have 8 loves and 2 parrotlets..oh but it dident stop there..
.. a few mnths ago..I took in my sister in laws mothers cockatiels cus i have always liked them.. and thought what the heck why not.. i swear sometimes i dont use my brain at all..
.. and i mean i love each and every one of them as they are all different and personality wise they are great but i really wanted not only a companion bird but one i could hold and cuddle.. so that being said i was given a sun conure as a Christmas gift .. not like i had enough birds already but within a day or so i was in love.. so hear i stand.. deep in feathers and head over heels in love..and so much in need of proper guidance on some issues and things i can do to help them all.. i have made an oath to keep them..and i will stand by my decision to do so..just may need a little support along the way.. so thats my store how I
fell in so deep with in a years time
wow! you sound like me, I have 6 linnies, one very species confused budgie, and a hybrid parrot. One of my linnies has some sort of neurological issue, my budgie THINKS hes a linnie, and my hybrid parrot is my mystery bird <3
thanks for the welcome
and how odd to have a species confused bird..lol was your budgie raised with the linnies?
no, he just loves his adoptive family, he mimicks them, preens them, shares food (and I dont mean stand on the same bowl kind of share food, I mean the nauseating, head bobbing kind)
oh yuck, my sun conure does that to me daily he even ugh you know..puke son me and eats it up its so gross I wish I could stop him from doing that .. he loves to try and have special cuddles.. I know its just a bird thing but gosh i really just don't like it ..
None of my birds really like any other of the species, cockatiel even sometimes could care less about his cage mate..my loves are never out of big flight cage while any others are free flying because the are the pitbull of the bird world and mean.. and my parrotlets are with eggs so.. and once when they where out they tried bitting the toes off my cocatiel so the to do not fly when others are out.. and my conure.. well he is a mommas boy so..
hahaha yep, your house is a zoo like mine! I have two geckos as well. One has enigma disorder, and the other is a huge female patternless. Tesla and Shasta
Join Date: Dec 2010
Location: UK
Posts: 17,659
Thanks: 1,593
Thanked 2,007 Times in 1,575 Posts
Rep Power:
100
Welcome to the forum! You sound like me too. But you can't save everybody (is usually what is told to me!). I have a Harris' hawk, an American kestrel, 3 green cheek conures, 1 hybrid conures, 1 black capped conure, 6 peach faced lovebirds, 5 cockatiels, 4 red fronted kakarikis, 2 celestial parrotlets, 1 black capped lory, 15 budgies, 1 canary & a few zebra finches
I recently downsized on my canaries and finches though as I am moving home and didn't feel the canaries would fit in so much with the outdoor flock and the finches, I lost a lot in our bad weather when a storm came in
but yeah, big flock here too!
---
- Alexandrine parakeets Kona, Peaches, George (missing), Holly (RIP), &
Orange winged Amazon parrot Paulie
Join Date: Mar 2012
Location: North West, UK
Age: 33
Posts: 1,077
Thanks: 450
Thanked 311 Times in 215 Posts
Rep Power:
13
Welcome! Great to see you on here.
Thanks for the intro
Your flock sounds lovely. We have also got a ton of birds in less than a year. We have 5 'pets' soon to be 6 when I pick my baby up next month, 1 charity case - I don't really call her a pet as she is really scared of people but being hatched with a bent toe and being small she can't be a breeder, and then I have 6 potential breeding birds (all unproven).
I hope you enjoy your stay!
Sent from my SK17i using Tapatalk 2
---
Some of the gang:
Hobby Breeding: lineolated parakeets
Join Date: Feb 2011
Location: Oshawa, Ontario
Age: 28
Posts: 914
Thanks: 2
Thanked 1 Time in 1 Post
Rep Power:
16
Hi! Welcome to the forum
---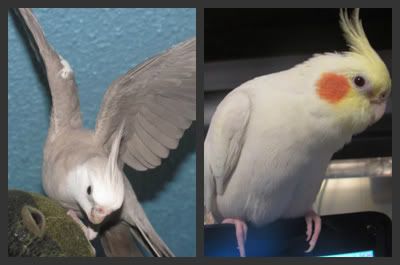 My Tiels
Cupid-Male Whiteface Cinnamon
Aero- Female Cinnamon Lutino
Thanks Sara, your Aero looks just like my tiel Sunny..he is a hoot, always talking up a storm, he has a huge vocabulary.. he is very talkative..
Layla, your house is sure active huh.. lots of birds
but I couldn't imagine it any other way myself, even tho i never really thought of myself as a bird person until i took in my lovies.
---
Owned by..
8 Lovebirds..Jenny,Paulo,Balue,Nemo,Cosmo,blueberry, Phoenix and jersey
2 Pacific blue parrotlets...Nikki & Posco
2 Cockateils...Sunny & Sassy
1 Sun Conure...Peaches.