Join Date: Jan 2013
Location: Syracuse, NY
Posts: 921
Thanks: 12
Thanked 450 Times in 340 Posts
Rep Power:
10
New to TP and looking for suggestions! :)
---
Hi all!
This is my bird time on talk parrots (if you're on talk budgies I'm sure you know who I am!)
I came here because I have a 2 year old English Budgie who is my pride and joy... and I've got the bird bug!! I would love to bring another bird into the home and I would really love a green cheek conure or black cap, but I'm not sure about it.
My bird, Julio, lives in our living room, he is only caged at night. I would like to offer the new bird playtime outside of cage during the day, but am looking for a bird that would get along with and/or TOLERATE a budgie :P
Does anyone have experiences of a conure and budgie (English) getting along as friends? I don't expect them to be bff's and do everything together, I just don't want them to hurt each other. I am also open to other ideas for a bird addition! Thanks in advance
---
Last edited by BirdCrazyJill; 01-05-2013 at

08:11 AM

.
Join Date: Mar 2012
Location: North West, UK
Age: 33
Posts: 1,077
Thanks: 450
Thanked 311 Times in 215 Posts
Rep Power:
13
Welcome.

Well I have nill experience on conures but you may be surprised to know often budgies bully other birds, even bigger ones!

If they are free roaming they may be ok but I think it's 50/50 if they get on.

Good luck!



Sent from my SK17i using Tapatalk 2
---
Some of the gang:
Hobby Breeding: lineolated parakeets
I have budgies, a parrotlet, a GCC and just added a tiel to the flock... I let the budgies and the p'let hang together during out of cage time, but do not let them near the 2 bigger birds. GCC are awesome birds, but the tiel is the most loving sweet tempered bird.. I think I would allow it around the budgies without as much fear as the conure. To be honest it all depends on the individual birds.
Join Date: Dec 2010
Location: UK
Posts: 17,653
Thanks: 1,593
Thanked 2,007 Times in 1,575 Posts
Rep Power:
100
Welcome to the forum. I have 15 budgies and 5 conures. 3 green cheeks, 1 green cheek hybrid and 1 black capped conure. I don't let the conures out with anybody else in the room and I usually have to cover the cages because if they're in one they'll bite toes and if they're out they're bully them through the bars! They are little monsters! But, they're worth it, all of them
out of cage time may have to be different but you won't regret a conure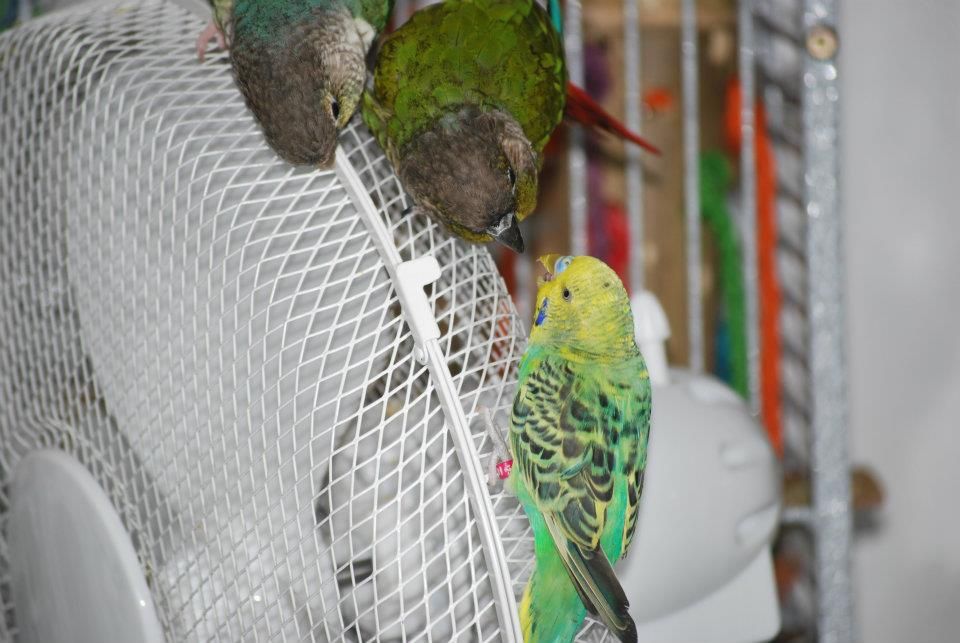 Budgies can be bullies too!
---
- Alexandrine parakeets Kona, Peaches, George (missing), Holly (RIP), &
Orange winged Amazon parrot Paulie
Join Date: Nov 2010
Location: cape town south africa
Age: 24
Posts: 2,386
Thanks: 24
Thanked 85 Times in 69 Posts
Rep Power:
24
green cheek conures are amazing little birds , i have no regrets getting mine
---
i love my little green cheek she is a mess and i love watching her play and clown around
---
Join Date: Dec 2009
Location: Delaware
Posts: 160
Thanks: 0
Thanked 24 Times in 16 Posts
Rep Power:
13
I'd be cautious about a Conure with a Budgie, even if caged separately. It may bully your budgie or force him into the "background" and become the dominant bird, maybe driving your Budgie away or even injuring it. I mean, if you really want a conure, get one - but don't get one as company "for your Budgie" because he may not appreciate the intrusion or competition from a more dominant bird.
A better friend for a Budgie would be either another Budgie, a Cockatiel, or a Bourke Parakeet. Whatever you get, I would cage it separately from your already tame budgie and just let them out of the cage together. 2 Budgies, in the same cage, can become like glue and may, in time, not want to deal with you. And a Cockatiel or Bourke parakeet would be better in it's own cage - as a Budgie in the same cage may be too much
for them
!
I have a couple Bourke Parakeets and they are totally gentle.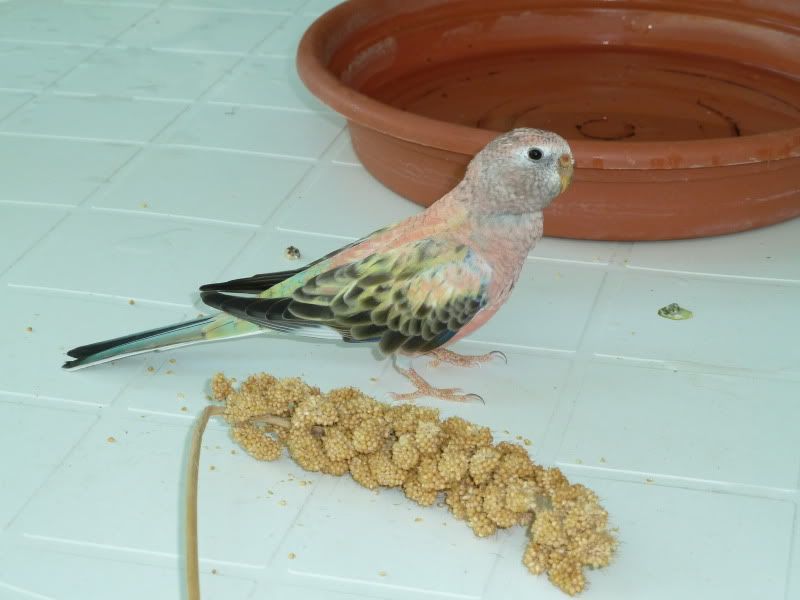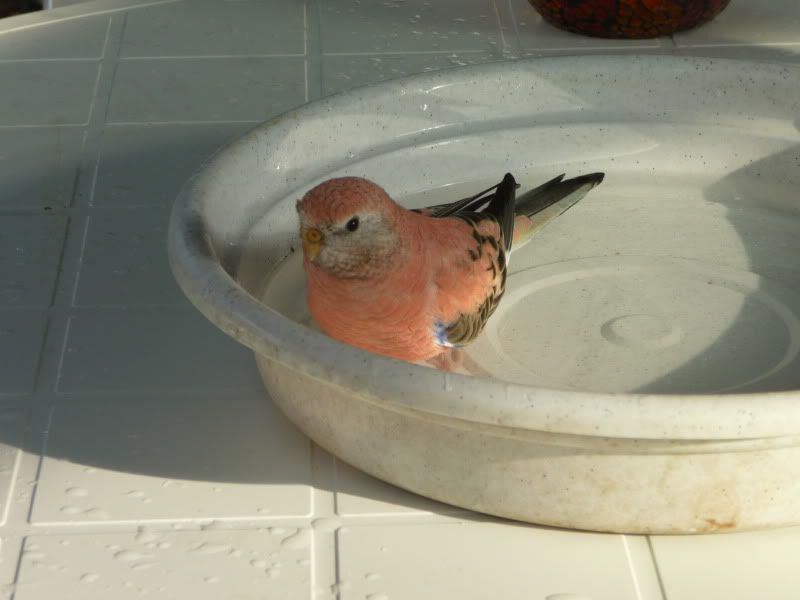 ---
Ron (a.k.a. Twitter09)
I have 2 Bourke Parakeets, 1 Budgie, 3 doves, and ~23 finches (and 2 dogs)
---
Last edited by Twitter09; 01-06-2013 at

11:14 AM

.
Your Bourkes are beautiful!
---
Quote:
A better friend for a Budgie would be either another Budgie, a Cockatiel, or a Bourke Parakeet.
I think this is very good advice for your sweet Budgie. Good luck in whatever you choose.
Join Date: Jan 2013
Location: Syracuse, NY
Posts: 921
Thanks: 12
Thanked 450 Times in 340 Posts
Rep Power:
10
Thanks everyone for the advice!!