Hello!
---
I have just been lurking on here for awhile. Trying to find helpful info for my new Goffin. I ventured over from TalkBudgies.

I currently have two male budgies, a moustache parakeet and my too comes home tomorrow!
---
Ozzy! Ollie!
Peaches! Courtney!
Join Date: Mar 2011
Location: Somewhere in Canada
Posts: 2,644
Thanks: 51
Thanked 104 Times in 64 Posts
Rep Power:
40
hey and welcome to the forum
we all love photos here, and we got members who are pretty experienced with many different kinds of parrots
---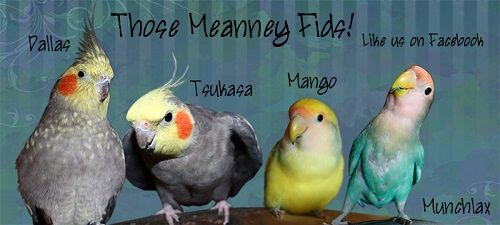 Those Meanney Fids FB Page:
http://www.facebook.com/pages/Those-...284656?fref=ts
Bird Information Photo Gallery:
http://s1282.photobucket.com/user/Me...?sort=3&page=1
All posts and photos of mine posted here are copyrighted by Casey Meanney. They are not to be reposted elsewhere without my permission.
Join Date: Dec 2010
Location: UK
Posts: 17,659
Thanks: 1,593
Thanked 2,007 Times in 1,575 Posts
Rep Power:
100
Welcome to the forum! Would love to see some photos of your birds
Feel free to ask us any questions
---
- Alexandrine parakeets Kona, Peaches, George (missing), Holly (RIP), &
Orange winged Amazon parrot Paulie
Join Date: Dec 2010
Location: Ohio, USA
Posts: 5,750
Thanks: 734
Thanked 474 Times in 379 Posts
Rep Power:
43
Hi Jamie! Welcome to TP!
Can we see pictures of your Goffins?




---
DIGBY
4-year-old male Congo African Grey
Oh wow... goffins are so cool... I got to hold one in a small bird shop a few months back... he kept saying HI BOB! to me...lol
Join Date: Jan 2013
Location: Sunny Florida
Posts: 235
Thanks: 42
Thanked 59 Times in 55 Posts
Rep Power:
8
Hi! congrats on your new baby...I luv goofy goffins...oh heck I LUV ALL toos....would luv to see pics...