New to the forums
---
Hello, my name is Sam and I am a new owner of a lovely male Sun Conure. I have always loved Parrots. I had a Lilac Crown Amazon about 6 years ago. Finally life has settled down and we have been blessed to be given a Sun Conure. He is absolutly beautiful and truly my baby! I will get pics up soon. Hope to learn share and chat with you guys.
Welcome to the forum!! I've always had a soft spot for sunnys
Join Date: Oct 2009
Location: New Zealand
Posts: 509
Thanks: 0
Thanked 2 Times in 2 Posts
Rep Power:
12
welcome! i have a maroon bellied conure.
sun conures are very beautiful, i'd love to add one to my flock
see you around
---
Ella's flock
Join Date: Nov 2009
Location: Canada ON.
Age: 24
Posts: 339
Thanks: 0
Thanked 0 Times in 0 Posts
Rep Power:
11
Welcome to TP!
---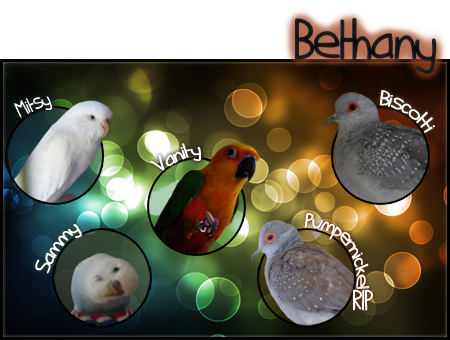 Thanks Becca!
People Use Duct Tape To Fix Everything.. Jesus Used Nails.
Welcome! I hope you enjoy it here at TP
welcome to the forum!!
---
VelvetHead!!
My female CAG