Join Date: May 2010
Posts: 4
Thanks: 0
Thanked 0 Times in 0 Posts
Rep Power:
0
Hello All
---
Hello all, i recognize some of you all from talk budgies...
My name is Susan and i am the proud owner of 5 budgies...
Rachel, Quinn, Mercedes, Finn and Puck Yes, it's my own personal glee club.
Here is Rachel sucking out Quinn's brain.
Monday i rescued a 12 week old green cheek conure. He goes to the vet tomorrow as something seems wrong with his leg and his beak doesn't shut like it should but besides that he is a total sweetie. His previous owners had tried to clip his wings and did a horrid job.
My 13 year old named him cuddles (kinda a joke since he looked so dang rough when we picked him up) He is really sweet. The breeder who had him only had him a couple weeks (she took him in cause she said she would rather have him than those people it's not one of her birds) and said the owners said that he was at one point hand tame.
Yesterday he hopped from the top of his cage and landed on me, crawled up to my shoulder and fell asleep. As I type he is on my chest being silly so I am happy to report he seems to be tame, and settling in.
Here is cuddles surfing the web
We also have a green cheek from that breeder that just hatched and she will be hand raising so Cuddles will have a friend.
I have a few questions on this little guy so I am sure you will be hearing from me quite a bit.
to the forum! Poor thing - he's very lucky to have found such a good home in you!! The beak could be one of two things, I think. Either his beak has just grown in funny from malnutrition and a quick trimming with fix it, or when he was hand raised, the breeder could have put too much pressure on his beak when he was young and could have misshappen it. When birds are very young, their beaks are very soft and if you aren't careful when you syringe feed you can push a divot into the beak. It looks fine in the photo, though
Either way, he's absolutely adorable!!
Nothing a good bath and some TLC won't fix! Let us know what the vet has to say
As for questions, we have quite a few conure owners and breeders on the site, so ask away! Questions are always welcome
Join Date: Nov 2009
Location: Canada ON.
Age: 24
Posts: 339
Thanks: 0
Thanked 0 Times in 0 Posts
Rep Power:
11
Hello
Thanks for taking in Cuddles, he looks really sweet! I hope nothing is seriously wrong, poor bird!
---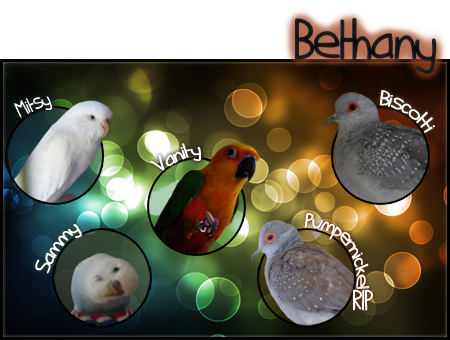 Thanks Becca!
People Use Duct Tape To Fix Everything.. Jesus Used Nails.
Join Date: Nov 2009
Location: Indiana, USA
Posts: 3,142
Thanks: 0
Thanked 2 Times in 2 Posts
Rep Power:
40
Welcome. I love the picture of your budgies and your caption with it.
I'm happy Cuddles and you found one another.
Banned
Join Date: Oct 2009
Location: Newfoundland, Canada
Age: 27
Posts: 435
Thanks: 0
Thanked 0 Times in 0 Posts
Rep Power:
0