I happened upon the account of
winslow_draws
on tumbler, where he also goes by the name of
half artist, half owl.
I found his image of a CREEPY OWL so very memorable, that I decided to post this image, here.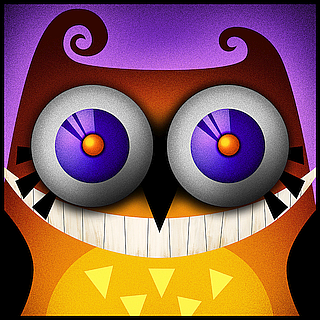 Now, when you look at this art piece, do you just see the bright blue eyes, stylized black eyelashes, and black triangle beak, with the crescent shaped area below with grey pencil lines as a decorative ruff above its yellow feathered body and black wings, or do you see a smile that could be owned by the
Cheshire Cat
from
Alice in Wonderland
?
Honestly, my eyes flicker back and forth between the two graphic possibilities, and as an artist, myself, I don't believe I would make an artistic choice as this, do to the visual graphic confusion. :grin2: