Discussion Starter
·
#1
·
Number 1
You will need (to feed four small birds and two big birds)
1 whole organic carrot
2 whole organic peppers (I used green and yellow but any colour is fine)
1 whole organic banana
1) First start by chopping your carrot and peppers into thin slices or cubes.
2) Place these into a bowl or dish of water for 5 minuets to make sure all the dirt has been removed
3) While that is being cleaned, slice your banana into thin circles and remove the skin from the outside
4) Soak the banana for 10 seconds on each side, no longer or the banana will turn brown and mushy
5) Add the banana to the carrots and peppers and pour a bit of water onto them to keep them fresh and hydrated.
This is what it should look like:
Number 2
You will need (to feed four small birds and two large birds)
1 whole organic apple
1 big handful of organic curly kale
1 head and stalk of organic broccoli
1) Start by chopping the apple into small chunks (the size of a pea) and then sit them in cold water for 5 minuets to remove dirt
2) While that is cleaning wash your curly kale and let it rest in a bowl as you don't want the curly kale too wet or the budgies will not like it
3) Run your knife across the broccoli head to remove small bits of the leaves which will be used at the end by sprinkling it onto of the dish
4) Chop the stalk into thin slices or chunks and wash them with the apples
5) Next drain the apples and broccoli stalk and then add them to your curly kale in the bowl
6) Sprinkle over the broccoli leaves, add a bit of water to keep them fresh and hydrated and taa-daa you have a perfect dish
This is what it should look like: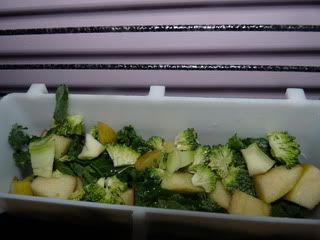 Note: all vegtables and fruit should be organic.
Feeds up to four small birds and two large birds each dish and can be used for: parrots, budgies, cockatiels and other birds.
Don't leave each meal in the cage longer than four hours to prevent germs and discolouring.