Discussion Starter
·
#1
·
for a while i have wanted to sprout seed for my flock but never knew how. i tried a few ways, but it always tired out gross and smelly. i have tried sprouting them in-between moist coffee filters and just in a cup.
Fear not!! i will share my success
supplies:
- good seed mix (i recommend Higgins Supreme Parakeet blend)
- canning jar
- mesh
- hungry birds!
1. start with a good brand of seed. i use Higgins Supreme Parakeet, which is very basic and only consists of 4 seeds. my flock wastes a lot with other seed brands because of the odd seeds or the pellets added. with higgins, there is zero waste. also, you can sprout mixes with pellets, but the water might get dirty!
2. add as much seed as you want for one day of feeding into your canning jar
3. put the 'sealing' lid aside as you will not need it and replace it with the mesh
4. rince the seeds a few times. i do not use vinegar in the soaking process. i only use vinegar when i am soaking my barley seeds for fodder for my rabbit. so, no need for vinegar!
5. after rinsing, fill the jar with water so it covers the seeds. seed that float can be thrown out or left. some will sink at the day goes on. i usually start rinsing and soaking when i get up.
6. i have done varying times for soaking from 12-15 hours. currently i am doing 12 +/- hours and it works great. i drain the seed before i go to bed and let them sit at a downward angle.
soaking seeds on the left and sprouting on the right (its horizontal just for the picture!)
having the seeds a a correct angle. it should be fine for whatever angle you choose, i have seen people do it with the jar completely upside down.
7. to make this clearer- day one in the morning you will rise and soak, at night on day one you will drain and let the seed sit at an angle. rinse the seeds if they appear to be drying out. day two in the morning, you should see a little white spot on the seed which is the root. i feed them at this point. if you want to wait longer, there will be a bigger root. i have heard that the bigger the root, the less nutrition is in the seed. my first time i waited a few days which is why the root is so big in the pic. again, i prefer to feed them in the morning on day two
first batch, sprouts are long. i don't have a picture of second day sprouts!
the leaf was even starting to grow. they did not eat the root or the leaf, hence why i recommend feeding on day two (i think you understand by now
)
cheerio the sprouts addict! she was the first to fall in love and now they all will fight over them!! (a great food for the picky budgie
)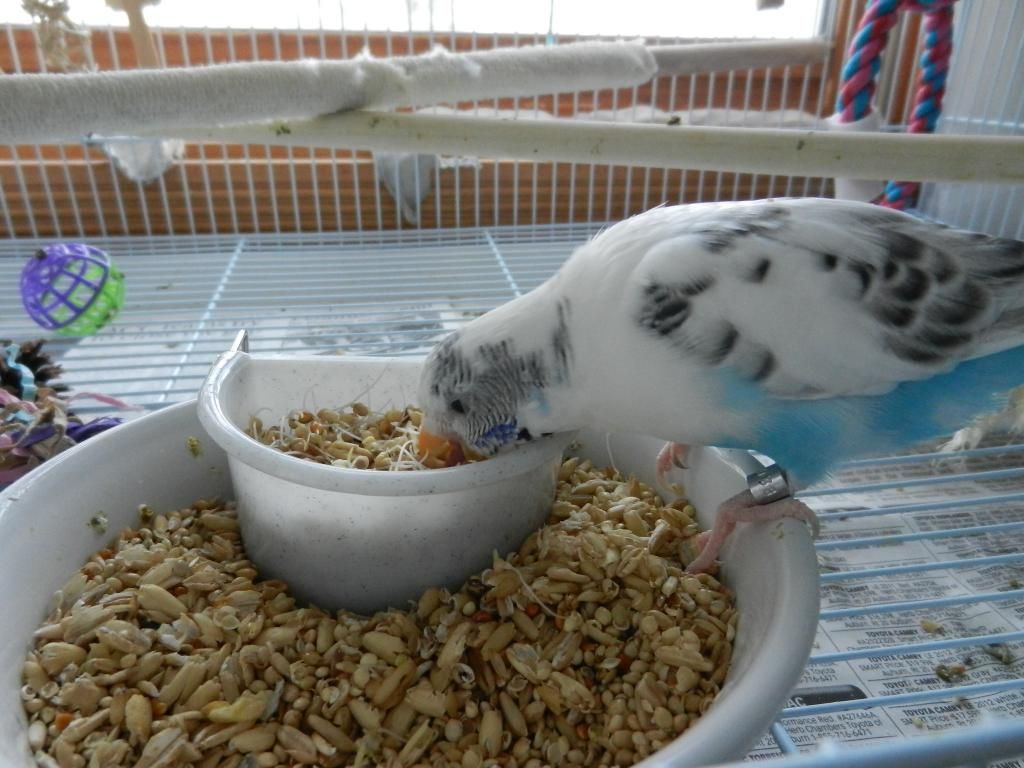 and i did mention that i tried sprouting seed in moist coffee filters and it didn't really work well, BUT!! i did manage to sprout flax seed! using this method
a while ago when i was growing seed (i'll put pics of that at the bottom) i soaked some flax seed for a day and threw it in a planter box. a while later i checked and it grew! next year i will plant it in the beginning of the planting season to see how much it can grow.
anyways... i soaked some flax seed for 12-15 hours~ i can't remember~ and then i put them in a moist/wet coffee filter and covered them. i kept it wet and after a few days....
and so i waited some more days and....!!
the seeds are sticky in an oily sense, but cheerio still liked them. i am going to try this again
last but not least, this is the failed sprouting seed that i threw in a planter and it grew. the birds loved the fresh seed and i am going to plant a lot more next year!! the red millet is black and the white millet is green
yum!
let me know if you have any questions