Discussion Starter
·
#1
·
As I feared, when Twitter was displaying all that courting behavior a few months ago... she finally laid eggs! All she wants to do now is sit on them. She will come out of her cage for a few laps in the room but otherwise gets right back to her "nest". She chewed a hole in the newspaper in the corner of her cage and has been incubating her 4 "dud" (unfertilized) eggs for the last week...
My unmated female doves do the same thing sometimes. I usually let them sit on them for a few weeks to get it out of their system. Is there any harm in letting Twitter sit on her eggs for a while? I read somewhere if you keep removing them, they will just keep laying.
The only silver lining here is Twitter's pre-occupation has given me more time to devote to Peeper, my young male Scarlet-Chested Parakeet, who is becoming quite tame and friendly. Conveniently, Peeper is also molting now so he flies very poorly and so will sit on my finger or arm for long periods, helping us bond even more. Peeper has started to "preen" me too, which I think is a good sign.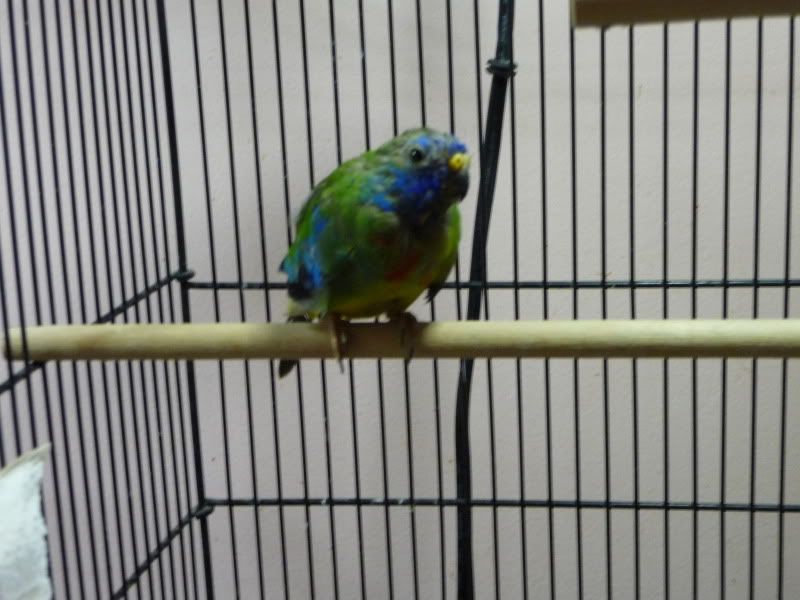 BTW, Scarlet-Chesteds and Bourkes cannot interbreed. If anything, I think "I" am Twitter's mate, as she is friendlier to me than Peeper!