I'm going to do seperate threads for my other fids otherwise it'll get too confusing.
Leo
- he's my brothers 'tiel.. we're probably going to be keeping him, but he's been here for the past month because he was sick. He's not tame. *yet*
Larry
- he hasn't been part of the flock for long. He was bought from a man who didn't want him because he's wanting to breed bigger birds.
But, he's very cuddly, loves scritches and he's obviously very, very tame! he's still only very young, had to hand feed him a bit, but he's doing pretty good now.
Jasper
- I got him the same day from the same person that I got Larry (above) from. He brought two 'tiels when we only asked for one, I felt really bad though, and the man had drived a fair way to bring them so I ended up trading the guy a cage for Jasper. He's an aviary bird, but I'm working on taming him.
Theodore
- my BABY girl.. :lovehearts: She's so cuddly and loves scritches. I hand fed Theo from 3 weeks old, I never thought I'd get the chance to hand feed a baby 'tiel and I'm telling you, it's the best thing I have ever done!
I also hand fed her 2 brothers from 3 weeks old as well - Twix & Charlie. (I still have Charlie, but Twix went to my best friend) So I got to hand feed 3 baby 'tiels, it was awesome and I enjoyed every minute of it and loved watching them grow up into beautiful babies.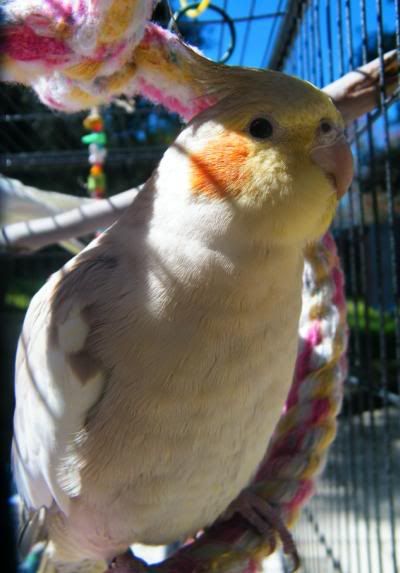 Emmit -
my mum got Emmit for me the same day one of my other 'tiels (Squeak) passed away - he's the most tamest 'tiel I have, loves scritches, sitting on your shoulder, and just generally 'hanging out' with you.
I've taught him to fly to me on command (woo!
) and he likes to show people his attempt at singing pop goes the weasel.. :rofl:he does heart wings all the time too.. while doing his sexy wolf whistle.
Tilly
- I got Tilly from a great breeder, she's very tame, but a bird bird, lol.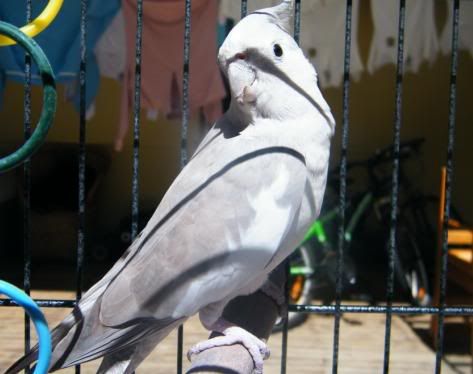 Shiro
- he was too cute not to bring home.. from a pet store.
The first time mum and I seen him, he was singing 'pop goes the weasel' to a BELL, yes, a bell, haha. He still sings pop goes the weasel and he's a really happy 'tiel, he's tame, loves scritches and loves people.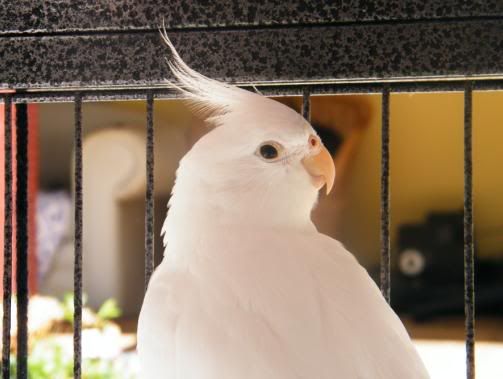 Ella
- I got her from the same breeder I got Tilly from.. she's tame, but another bird bird.
Charlie
- this is one of Theo's brothers who I also like said above, hand fed from 3 weeks old. He's a head scritching freak, he will have you giving him scritches all day if he had it his way. :lol: He's really tame..
Mali/Malibu
- I got this little girl from the breeder I got Tilly and Ella from, she's the calmest, most laid back 'tiel of the lot. She's NEVER bitten or attempted to bite me, she's pretty much as tame as Emmit come to think about it, she loves head scritches too, as well as being with people.. she's so friendly it's not funny.