Discussion Starter
·
#1
·
After seeming like he was "stuck" in the middle of moult for a few months, Peeper, my Scarlet Chested Parakeet, is finally showing some signs of getting new feathers. I doubt he will have all his adult coloration by his first birthday in August, but he seems to be growing new feathers by the day now and finally he is flying again, somewhat!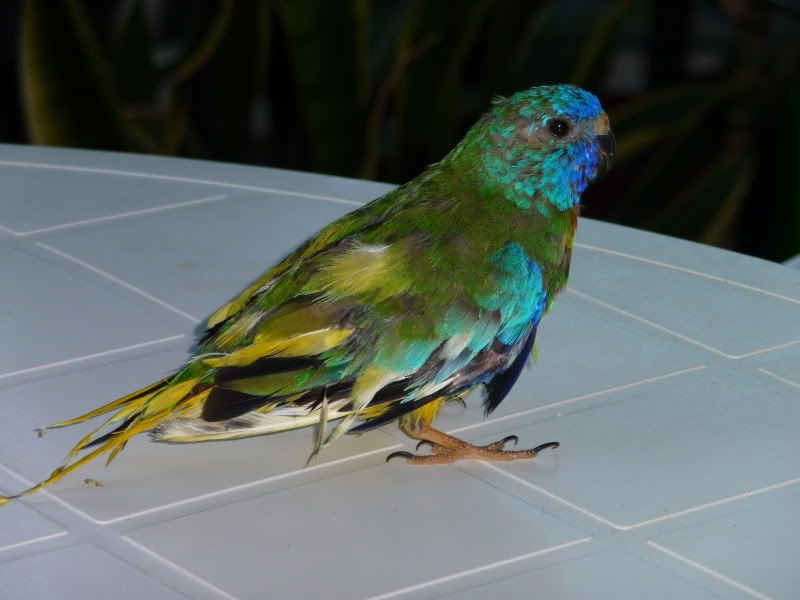 We kind of have a daily morning routine now where I let Twitter, my Rosy Bourke, and Peeper out to play in my dining room and living room before I go to work. I put a millet spray on the floor so they can "forage" and they both enjoy running around the floor. Doing this has helped them to get along better. Now they only fight when they are in the same cage - and Twitter is
always
the aggressor, even if she goes in Peeper's cage by accident!
I sometimes lay on the floor with them and they run up to me, to nibble by nose or hair. Twitter also does her (flying) laps. But Peeper surprised me by flying back to his own cage yesterday. Normally he waits below his cage for me to put my finger out so he can hop on and go back in, after Twitter returns to her cage. Twitter is sitting on dud eggs again so she won't stay out more than 15 minutes usually.
I don't know if it helped spur the re-start of Peeper's moult but I've added vitamins to both birds food - I think it is called "Feather Fast", specifically to help moulting. And they get occasional fresh egg food and steamed green peas as supplements, in addition to seed, pellets, and regular green food. I will shortly post a new video of Peeper enjoying his peas...
With Twitter sitting on eggs and Peeper still not fully-flighted, I am defnitely handling Peeper alot more and he is quite finger tame now. But time will tell if he will fly to me on his own and
want
to be with me, once he has the more choice in the matter. Now, he will come over and nibble my face or eyeglasses when I lay on the floor so I guess that's a good sign. Twitter, my Bourke, is totally friendly and comes to me all the time, landing on my shoulder, arm, or back, if I am laying down. But Twitter comes and goes as she pleases, she might fly over to me and hang out for 30 minutes or 30 seconds, as the spirit moves her... and that's
the deal
with flighted birds!
Hopefully Nanay will see this, since she also has a young male Scarlet Chested Parakeet.