I haven't introduced Taji to you all yet. He is the newest addition to the flock, I got him in September (4ish months ago) and he was 9 weeks old. He is about 6 and a half months old now! :lovehearts:
I had got in contact with a breeder I got 2 Budgies from because he had been advertising GCC babies, and I seen that there was Yellowsided babies and.. I couldn't help myself. There was 3 (or might have been 4) but I was second to get one of the babies once weaned and someone else was getting the first baby once weaned, there was about 2-3 weeks between them in age but I didn't mind, I would have had to wait a bit longer, and I had to get a cage and all yet! Anyway, I was planning to get a baby for my mum, it would have been a bit of a late birthday present, but when I told her she lashed out "I DON'T WANT ANYMORE!" - she has 3 birds already.. I had made plans and everything to have the baby dropped off and I couldn't turn around and say "Oh sorry, I don't want the baby anymore", especially since the first person who was going to get the first baby backed out all of a sudden and it put me up to being the first person and I had a week or so to get a cage ready and all!!
He is the sweetest little guy, seriously. He loves his scratches under the wings (in which we only do every now and again) and he is such a cuddle bug monster!
I *slowly* introduced him to Leila, and they started off really good.. that was until one day they turned on each other (NO idea why!) and now they dislike each other, a lot. :lol: It doesn't bother me though, they prefer to have me to their selves and spend time with just me one-on-one.
Moving on to photos.
Photos of Taji the day he came home (9 weeks old):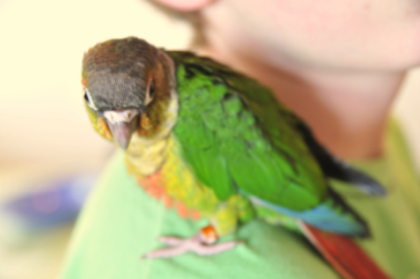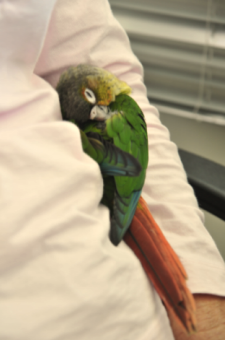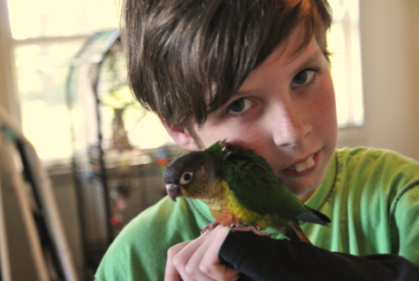 (they are my brothers holding him by the way)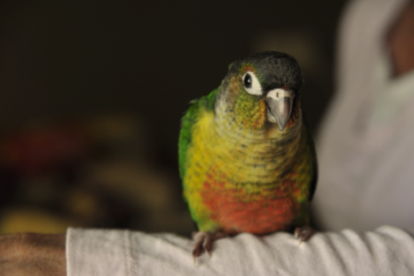 And here are some recent photos of Taji now.. (6 and a half months old - about):
He grew up so fast!